25/2/2021
You might consider your boat cushions last when it comes to the many things that need attention on a boat. Let's be honest, comfortable, stylish, well-fitted interior boat cushions are arguably one of the more important aspects of your boat for many reasons.
Aside from giving your boat a clean and attractive aesthetic, having high quality boat seating provides comfort, style and maximum functionality no matter what type of vessel you have. Whether you are buying a boat for the first time or you have owned a boat for many years, having beautiful, comfortable and high functioning seating areas inside and outside your boat adds to your enjoyment. If you plan to go cruising for long periods or just take guests for an evening boat ride, proper boat seating will make everyone's experience more pleasurable.
Maybe you have a beloved sailboat that came with outdated, smelly '70s style cushions that no longer suit your lifestyle. Or possibly you have a sleek, powerboat that has worn fabric and foam from many years of use. Or perhaps you have always wanted a custom lounge cushion on the bow of your boat. Whether you want a full set of new cushions from scratch, or just an update to your existing cushions, here is what you need to know before you start.
Boat Cushion Fabrication, Foam, Fabric, Fit & Style!
If you are replacing or recovering your cushions for the first time, it's important to understand what options are available to you so you can enjoy your new cushions for years. In order to help sort out all the details, we have provided a comprehensive breakdown of what to consider when choosing marine cushions. We will show you why having an experienced professional fabricate your custom cushions is the best choice, and why it's good to steer clear of generic store bought cushions.
5 Basic Parts of a Boat Cushion:
A high quality, long lasting cushion should have the following as part of a basic cushion construction:
A High Quality Zipper – This is a must with any type of boat cushion to remove and wash covers. As we all know, boats can be wet, dirty, salty and stinky so having a durable YKK zipper on all cushions for easy removal is of the utmost importance. These plastic zippers won't corrode like a metal zipper and they are not only durable but also more flexible, making it easier to remove the cover.
Finished Interior Seams – All interior seams should be over-locked or burned so threads don't unravel when washed. This also makes the process of removing covers and re-stuffing much easier.
Teflon Thread – Having your cushions constructed with Teflon thread will ensure they last. Cushions can get tugged, stretched or lugged around a boat so using utterly indestructible Teflon thread with 100% PTFE fiber provides durability for the heavy use that boat cushions undergo and is UV resistant.
Durable Fabric – see fabric section below.
Foam Inserts – Obviously, this is also an essential part of the construction of a cushion but it merits its own section to help you discover all the options available. A major consideration when fabricating cushions is whether to start from scratch or re-cover existing foam. Both can be great options. Here are some tips if you are not sure.
New Cushion Foam vs. Recover Existing Cushion Foam
New Foam – If your cushions are more than 10-15 years old, it is often worth the investment to get new foam and start fresh. If you are not sure, take a cushion out of its cover and let it air out. If the foam smells musty, has mold or is misshapen and degraded, it's time to consider complete new cushions. You can always bring your cushion to our shop and we can help assess it with you.
Recover Existing Foam – If the foam is slightly worn but otherwise intact and has its original shape, we say keep it as long as it smells ok to you. We can steam foam to bring back the original shape and wrap it with new batting to make it look as good as new. This option is great if you don't have the budget for new foam and it will refresh your seating and extend its useful life.
Types of Foam for Boat Cushions
Open Celled Foam – This is the most common type of foam. It comes in varying densities and can be shaped or cut to any size desired. Often boat cushions need bevels or special cut outs to fit perfectly. We have the ability to create any shape you need. Open cell foam comes in any thickness desired and is a great choice for indoor or outdoor applications. It can be very soft or extremely firm depending on the density you choose.*
Closed Cell Foam – This foam is very dense and firm foam that floats. It is best for bow or cockpit cushions. It will not absorb water like open-cell foam and can be used for flotation as a bonus.
Dry Foam – Porous foam that does not absorb water. It is typically one density. Commonly used if your cushions will be exposed to excessive amounts of water or left outdoors.
How to Choose Foam Density
By far the most common type of foam to use for boat cushions is open-celled foam. It offers densities from very soft to extra firm, depending on your preference for sitting, sleeping or even stepping. Outdoor cockpit cushions lend themselves to firmer foam, as often boat owners need to step on them to access various parts of the boat.
But don't worry, if you can't choose one density, combine two. If you like a firm base but a little softer top, we can always combine different densities of foam to create the perfect fit and feel. For boat sleeping areas, you can also choose a high quality foam mattress or memory foam pad and have them cut to shape.
Fabric Choices for Marine Cushions
It is easy to be overwhelmed by all the different types of fabrics you can use for boat cushions. We are experts and can guide you through choosing the best option for your needs.
If you are looking to fabricate cockpit cushions, interior salon cushions, helm seats, v-berth cushions or accent pillows, Sunbrella is a widely popular fabric for all of these. It comes in Marine or Upholstery. Other options include high quality marine vinyl, Phifertex mesh, Ultrasuede, or even leather.
Choosing the best type of fabric – Marine Sunbrella is a wonderful option for outdoor or indoor use and holds up to wear and tear even with constant exposure to the elements. It comes in a large array of colors and textures to satisfy most style needs. If you are looking for more vibrant designs or unique patterns, the Upholstery Sunbrella has a gorgeous selection to choose from. We typically recommend Marine Sunbrella for most boat cushions but the upholstery Sunbrella is an option for your boat interior if you want more pattern and color options.
In addition to popular Sunbrella, marine cushions can be made of high quality marine vinyl, Phifertex mesh, faux leather and/or Ultrasuede. All of these can be used for most boat applications but the choice of fabric can depend on the location of the cushions on the boat as well as how you plan to care for the cushions.
Cushion Fabrication Styles
Whether you are a seasoned design expert or a complete cushion novice, this will help you understand all the basic fabrication style options available for any cushions.
Box and Plate – This cushion has a vertical sidewall that is the same height as the thickness of the cushion. They are made by assembling the top and bottom section of the fabric to the sidewall fabric to form a box. The zipper is in the sidewall.
Cascade/Waterfall – This cushion has the fabric cascades over the front of the cushion with two side panels and back zipper. This is the best style for stripes or patterns because the pattern will not be interrupted.
Butterfly/Knife Edged Corner – This style has two pieces of fabric sewn with a center side seam and corners pleated to create boxing. These cushions do not have a sidewall like the boxed edged and are most common for smaller thicknesses of one or two inches.
Single/Double Welted (or piped) – Has one or both sides piped. It can be in contrasting color. The piping can provide some stability, but it is mainly for style and decor.
Upholstered Cushions – A cushion stapled to a backer board and often glued or nailed to furniture or the structure of the boat. Built in boat upholstery can be complex. We are happy to assess your upholstery and determine the best solution for your boat.
Throw Pillow – A small decorative pillow with poly or down fill and a zipper for easy removal. Throw pillows are great for style accents on a boat.
Bolster – A long, typically cylindrical, cushion or pillow that is usually firm for support.
Measuring and Templating for Boat Cushions
In almost all cases, it is best to have our expert staff template and measure your project. This ensures that you get the best fit and will accommodate all possible cutouts, odd shapes or hardware placement. In some cases, if foam is in good shape, it can be copied or recovered but we always prefer to visit your boat so all the details can be taken into account.
Fit, Function and Style Extras for Boat Cushions
Let's go beyond the basics. Presumably you have style ideas and want no-fuss solutions, however, complicating conditions may exist when making cushions for a boat. All of the following should be considered when designing and fabricating your cushions.
Hardware / Attachments – Cushion hardware is very important. Depending on how you use your boat, you may need attachments to keep your cushions from shifting or moving. Snap pockets or snap tabs allow you to easily attach a custom cushion for a secure fit. Although snaps tend to be a reliable and popular option for interior or exterior boat cushion, we can also use Velcro, Keder track, common sense fasteners or other marine hardware depending on the application. Hardware can corrode so it is best to keep it clean and free of dirt and debris.
Foam Cut Outs / Bevels / Odd Shapes – No boat is straight, symmetrical or square. Templating a boat for new cushions is critical. It allows your cushions to fit and function properly around the nooks and crannies of your salon, v-berth or cockpit. Precise cutting, shaping or beveling of the foam create cushions that custom fit your boat. Boats can also be in need of special wedges, knee rolls or even be upholstered to a backer board that attaches to your boat.
Breathable Underlining – Boats are inherently moist. To combat moisture and mold, have your cushions fabricated with a mesh underlining that helps your cushion breathe. This is especially important for cushions on your boat deck because they are more likely to be exposed to moisture. Because most boat cushions are not reversible, a zipper can be sewn on the mesh bottom for easier removal of the cover.
Batting Wrap on Foam – Batting is often applied over foam to prevent slippage and provide a smooth, soft appearance. The thickness (loft) of batting can range from very thin up to an inch thick. Batting is a great option for any interior cushions like V berth or salon seating to plump up your cushions and add softness . It is not often recommended for cockpit or bow cushions as it can retain moisture if it gets wet.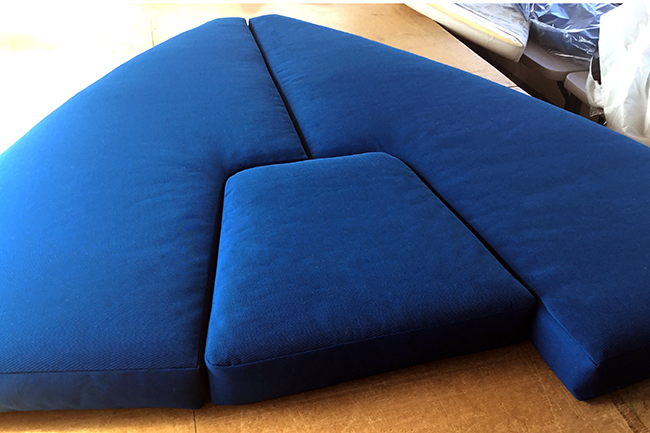 Hinging – Boats have lots of odd storage areas that can be hard to access. You can create a hinge on any cushion. It can be a mock hinge with velcro for full separation or a static hinge that is sewn into the cushion. Hinging can provide flexibility with your seating arrangement or allow for access to hard to reach areas under or behind a cushion.
Piping / Welting – Piping, also known as welting, is a great way to add a little contrast or pizazz to your cushion. It does not serve any major function beyond style and personal choice. .
Buttons / Tufting – Adding buttons or tufting is a personal style choice and works best for fancy applications. It is often not the best choice for a heavily used cushion.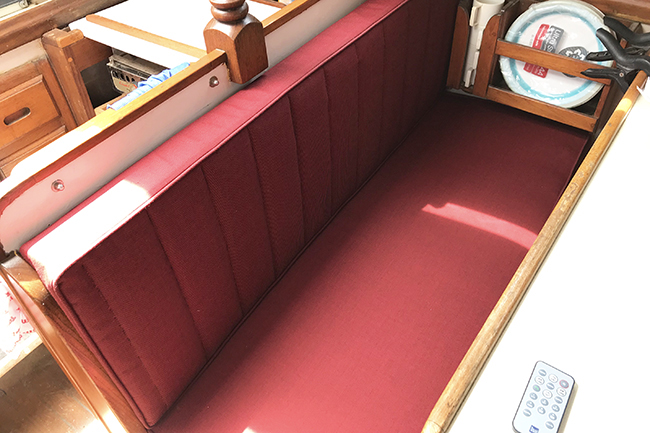 Striped or Patterned Fabric – Striped or patterned fabric can provide a beautiful look and unique feel to your boat.
Boat Backrests – Cockpit backrests can be recovered just like seat cushions, or we can create new ones that are customized to your needs. Backrests are often a wedge, soft fill or just simple throw pillows.
Why Choose The Canvas Works to Make Your Boat Cushions?
High quality cushions provide comfort, style, and durability. We know the ins and outs of designing, fabricating and installing boat cushions. Whether you have a spacious yacht, compact sailboat or recreational canoe, we are dedicated to providing you with the best options for your vessel. Let us know what you're looking for.
We can fabricate all of the following for your marine vessel:
Cockpit and Deck Cushions
Helm Seats
Interior Boat Salon and Dining Seating
Bow Cushions
V Berth sleeping cushions
Bolsters and Throw Pillows
Boat Backrest Cushions
Boat Deck Furniture Cushions